CloudCopy is a secure, easy to use storage backup service for desktops and notebooks that allows you to store all your files, documents and projects securely on our safe and reliable storage network. CloudCopy is a true cross-platform product and works on Windows, Mac OS X and a wide variety of Linux distributions, including Ubuntu.
Not only does CloudCopy store your files and documents safely on our UK based storage network, but securely too. All of your data is encrypted in our cloud environment against a unique encryption key you provide when you first set up CloudCopy on your computer. This makes our cloud backup solution perfect for individuals, professionals and businesses that plan to store confidential files and documents on their CloudCopy account.
Our versatile cloud backup solution starts from just £3 a month, with no contracts! All plans come with our 24x7 free technical support as standard.
Prices includeexclude VAT.
Easy to maintain backup solution for personal and office desktops.
eUK CloudCopy is a cloud based remote backup solution for desktops used in homes and small offices. Many desktop users in various small businesses and homes do not maintain regular backups of their day-to-day critical data which puts them at considerable risk. With the growth of high speed internet access and the growing need for solutions to backup data at a secure online location, there has never been a better time to opt for a cloud based remote backup service.
eUK CloudCopy is a comprehensive online backup solution that ensures that important business and personal data is protected and is readily available when needed. eUK CloudCopy backup stores data in a highly available distributed manner across a cluster of servers for redundancy. As a user, you have access to your stored data at all times through a user friendly control panel. This backup solution also offers the option to pay as you grow, giving you the ability to add or remove storage capacity as needed.
Why choose eUK CloudCopy?
An easy to use Online Backup Solution
Backup Small Office Servers & Desktops to the Cloud
Elastic Storage on Demand
Setup Automatic and Scheduled Backups
Perform Incremental Backups
Restore Data Reliably via a Web Browser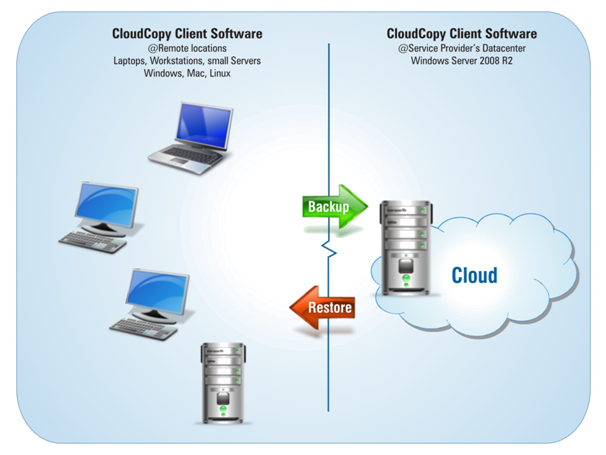 Desktop and Laptop Backup
CloudCopy can be easily integrated and configured to backup all your critical data stored on a desktop or laptop. As a user, you just need to set up your backup schedule in a few simple steps and let it automate backups.

Support for Mac OS X, Windows, and Linux
Whether you use a Windows, Mac OS X, or Linux machine, data backup is highly critical. CloudCopy supports an extensive range of Windows, Mac OS X, and Linux based systems and platforms to configure automated data backups.

MS SQL Server and MySQL database backups
Configure secure backups for your Microsoft SQL (2000, 2005, and 2008) and MySQL databases at the table level while they are in use. eUK CloudCopy allows you to backup databases without interrupting business operations.

MS Exchange
Perform full Microsoft Exchange Server 2003, 2007 and 2010 server backup and recovery with CloudCopy. Configure Mailstore level backup, Folder level backup or a combination of both and secure your MS Exchange Server database.

Elastic Storage on Demand
Increase or decrease your storage capacity anytime you need to, handle any amount of users and data with Cloud Copy's Elastic Storage on Demand.

Open Files
With CloudCopy, you can perform backup operations on open files. This ensures that your schedules do not get affected and you can have files open and in use even during backup windows.

Web Access
CloudCopy offers a user friendly control panel interface in order to let you access your stored data. Backed up files can be accessed from anywhere with an internet connection via a web browser.

Security
Worried about storing your data on the cloud? Keep data secure with robust encryption. All data from client to Cloud is transferred through secure SSL channel. Moreover, the data cannot be accessed without username & password authentication.

Less Administrative Overheads
Easy deployment, simple administration and management, and straightforward ease-of-use mean you save time and money. Besides, high reliability and scalability result in much lower overall costs.
Windows: XP, Vista, 7, Windows Server 2003/2008, 2008 R2 (x64 only) with .NET framework 2.0 or higher
Mac: OS X 10.5 Leopard or higher (Intel only)
Linux: RedHat, SuSE, Debian, Ubuntu (many other Debian derivatives also supported) with Java 1.6 platform or higher
CPU: Minimum 1 GHz recommended
RAM: Minimum 1 GB (1.5 GB on Linux distributions)
HDD: Minimum 25 MB free space
eUK CloudCopy User Manual for Linux
Download »

eUK CloudCopy User Manual for Windows
Download »

eUK CloudCopy User Manual for OS X
Download »