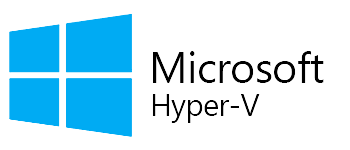 Hyper-V Cloud
Hyper-V is one of the industry's leading server virtualisation platforms. As a proprietary component of the Windows server platform, it provides a rich feature set that has been created to guarantee stability, availability, high performance, along with manageability. IT advisory firm, Gartner, has recently noted the popularity of Hyper-V, placing Microsoft in the Leaders' quadrant in its latest Magic Quadrant Report on server virtualisation.
Interested in Hyper-V? Visit the main Cloud Hosting page to get started!

Supports a multitude of operating systems - not just Windows
Being a Microsoft product running on the Windows operating system, you'd be easily forgiven for thinking that Hyper-V could only run Windows virtual machines. However, this isn't the case, it can be used for hosting the majority of operating systems, both 32 bit and 64 bit.

Reduced virtualisation costs
As an integrated component of the Windows Server platform, Hyper-V is able to offer reduced costs when compared to its closest rivals. With other virtualisation platforms you will have to pay a license fee on top of any other licenses that may be necessary, but with Hyper-V, you only have to pay the usual Windows licensing fee. That's right, it doesn't cost you extra to use if you're already using Windows Server.

Hyper-V cloud delivers improved stability
Hyper-V is what is known as a microkernelised hypervisor: a type of compartmentalised architecture that stores the drivers for individual virtual machines of their related disks. This design has helped to achieve new levels of stability. As virtual machines' drivers are hosted at a virtual level, rather than at a hypervisor level, should a virtual machine develop a fault and become unstable, it only affects the individual VM rather than the entire node.

Hyper-converged architecture
Our new Hyper-V cloud has been designed with a hyper-converged architecture and utilises the best of breed technology. Host-level clustering provides redundancy, whilst EMC ScaleIO delivers self-healing and superfast SSD-accelerated storage for your virtual machine.