CloudLinux


Revolutionising reseller security & performance

Maximise customers' safety, boost server density and decrease operating costs through a globally recognised and efficient OS.
£9.99/mo ex VAT
Order Now
How does it work?


(Traditional Setup vs CloudLinux Setup).

The traditional shared hosting environment does not provide any firm segregation of the accounts hosted over a single physical server, nor the resources they share. This means that if one account is affected by a certain event, the rest will be too. If a single account uses excessive amounts of resources or falls victim to a malicious attack, the other accounts will be impacted as a consequence. .

CloudLinux is designed to overcome these issues. It does this by virtually separating individual accounts hosted over a shared hosting server to ensure the activities of one account do not affect the rest. The LVE (LightWeight Virtual Environment) uses continuous server monitoring and management to restrict any account from monopolising resources while limiting the risk of malicious attacks from taking the whole server down. LVE also deals with unoptimised websites and resolves problems related to running out of memory. What's more, as your clients' websites continue to grow, CloudLinux's incredible scalability enables their resources to grow with them.
Security
Are you constantly worried about the safety of your clients' websites and databases? The Lightweight Virtualized Environment (LVE) offered by CloudLinux will put all your worries to rest by keeping hackers and malware away from your confidential data. And with regular security patches released by CloudLinux, advanced security and stability are guaranteed.
Performance
Shared web hosting generally does not track the resources being used by multiple accounts hosted on a single server – a weakness that can result in problems. CloudLinux helps avoid this by keeping a tab on resource consumption and providing a superfast and lightweight lsapi PHP handler module to maximise performance. It also suggests upgrades when required.
Scalability
CloudLinux makes it easier to scale resources to match the evolving needs of your clients' websites. The best part? Its highly economical pricing means you do not have to break the bank to acquire its top-tier features.
Compatibility
CloudLinux is highly compatible with interfaces like cPanel/WHM, which includes a GUI that functions well with your Linux operating system. RHEL, CentOS, Plesk and DirectAdmin all work well with CloudLinux.
CloudLinux Features
Virtually isolates accounts to avoid disruption from fellow accounts.
Offers Python and Ruby selectors.
Hardened Kernel.
Restricts MySQL Abusers by using MySQL Governor.
Protects from symbolic attacks.
Offers hardened PHP versions and configurations.
Compatible with cPanel and DirectAdmin.
Offers PRO mod_lsapi for Apache.
Offers CageFS for isolation.
Determining limits, such as CPU, RAM, Inodes and I/O usage.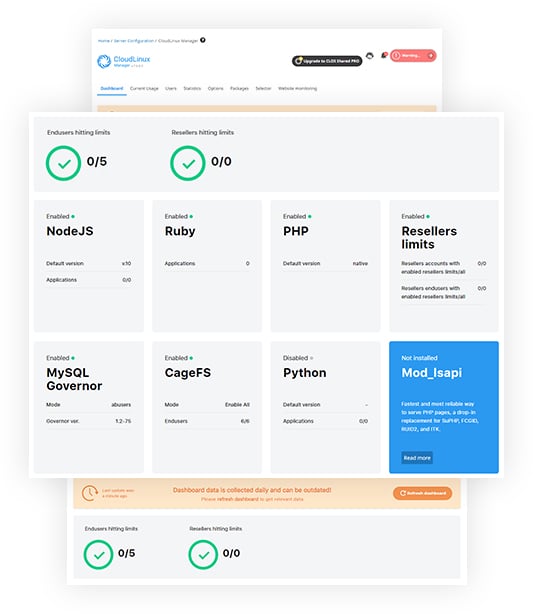 Why choose CloudLinux?
CloudLinux improves the security and performance of shared hosting and development servers, and can be used on VPS, dedicated servers and cloud servers.
It creates virtual environments for individual accounts, isolating them and virtualising data to improve security, while monitoring and managing resources to ensure they are not monopolised by individual accounts. Its ability to identify and throttle accounts that consume excessive resources ensures consistent performance for all your clients' websites and protects them from downtime and related performance issues.
What is CloudLinux?
The most frequent cause of downtime in servers is when one account uses huge amounts of the shared resources and thus limits the performance of all the other accounts hosted on the server. CloudLinux prevents this by virtually segregating all the accounts on a server while monitoring and managing the resources used by every individual account.
What spikes the resource usage of a server?
When one server hosts multiple accounts, the server's resources are shared by all the accounts hosted on the server. If a single account uses excessive amounts of resources, this will reduce the resources available to all the other accounts on the server, affecting their performance. CloudLinux monitors individual accounts for excessive disk and CPU usage and, if necessary, can limit an account's usage to protect other accounts from being affected.
How do I find out the usage of my server?
CloudLinux makes it easier to check the usage of server resources across all accounts, enabling you to protect your or clients' websites from any negative impact. By preventing excessive usage, you can better ensure that all websites load quickly and perform optimally.
Why CloudLinux?
CloudLinux helps:

Improve the reliability of a server.
Reduce the possibilities of support instances.
Balance the number of accounts per server.
Efficiently manage server resources.
Optimise server load.
Boost server uptime.
Enable easy access and control through cPanel.
How to optimise the usage of server resources?
Reducing/limiting the bandwidth usage of websites is one of the best ways to decrease overall server resource usage. This includes limiting the modules and plugins they use, decreasing image size and caching.
What are the available add-ons with a CloudLinux licence?
CageFS – A selection of tools available that prevent hackers from scanning for vulnerable files; stop client users from viewing server configuration files; allow administrators to manage users easily and integrate seamlessly with cPanel.
PHP Selector – This enables you to select the version of PHP running on your server, plus the option to enable and disable specific PHP modules.
MySQL and I/O Governors – These give the server administrator more flexibility and control over CPU, RAM, MySQL, and I/O with the ability to add throttles on a per server and per user basis.
Our Accreditations


Committed to your data security