Imunify360


Fortify your system
from all angles

Imunify360 is an automated security solution designed to secure Linux web servers against malicious attacks.

View Plans Ask an Expert
What is Imunify360?
Your website is a platform for your customers to gain access to your products and services. Hence, its security should be a topmost priority.
Imunify360 is an AI-based 6-layer security solution to keep Linux servers safe from malicious attacks. It protects your system from threats that aim to gain access to your system and cause huge amounts of damage.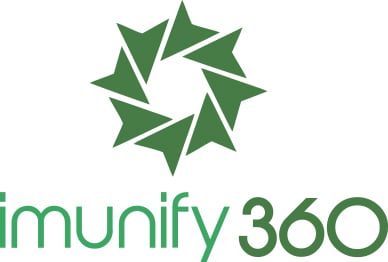 Web application firewall
Keeps your servers safe from unauthorised accesses and identifies new dangers using AI and herd immunity. Its advanced security keeps port scans, DoS attacks, brute force attacks and other threats at bay.
IPS/IDS
Its 'deny' policy puts an immediate stop to any perceivable threat. Imunify360 performs in-depth scans and keeps a track of all server files. It restricts any IP that is considered a potential malicious threat.
Intuitive Intrusion Detection System
Significantly reduces the detection of false positives and negatives by employing the central intrusion detection system. It identifies any potential threats to your security so you are not caught by surprise.
Control panel integration
Hit the ground running with Imunify360 as it provides instant server protection with its control panel integration within your web hosting. It also helps you to keep an eye on the security of your server at all times.
Scans for malware
Imunify360 is a diligent malware scanner that monitors any potential threats and conducts regular scans to boost server security.
Rebootless Kernel Live-Patching
Automated kernel patching ensures your server's kernel security without requiring a server reboot. So, you do not have to worry about downtime.
Hardened PHP
Choose any PHP version without worrying about updates as Imunify360 releases regular patches to get rid of any vulnerabilities.
Antivirus+
A single click can help you identify and get rid of the malicious code hidden in your files with the help of deobfuscation measures taken by Antivirus+.
How does Imunify360


protect your website?

Websites on the internet can be targeted by malicious threats aiming to gain unauthorized access to your website and cause a lot of damage. While systems regularly introduce updates to protect from known threats, it might not suffice.

Imunify360 provides several levels of security against evolving threats even if the system updates haven't been released yet. True to its name, it creates a strong barrier around your website to keep hackers at bay and get rid of any possible threats. It also performs regular scans to identify and patch up any vulnerabilities.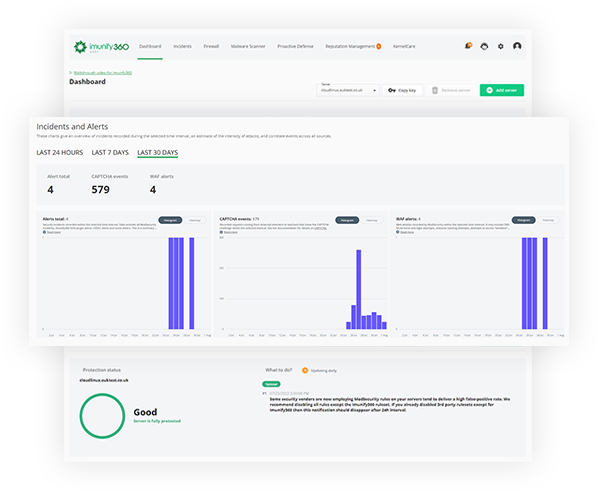 Supported Systems
Virtualization
OpenVZ – Works for Virtuozzo 7 with kernel 3.10.0-327.10.1.vz7.12.8 or later
Operating Systems
CentOS.
RHEL.
CloudLinux OS 6 and 7.
Ubuntu 16.04 LTS only.
Hosting Panels
cPanel.
Plesk.
DirectAdmin (starting from Imunify360 version 3.1.3 and later).
Hardware
cPanel.
Plesk.
DirectAdmin (starting from Imunify360 version 3.1.3 and later).
Imunify 360 FAQs


Frequently asked questions with answers.
What is Immunify360?
Imunify360 is a Linux-based security suite powered by Plesk to enforce cutting-edge server security. It also includes KernelCare and Antivirus+ to make your system completely safe.
How do I use Imunify360?
Once you log into the control panel using your admin credentials, proceed to Plugins. Then select Imunify360 to move on to its admin interface.
Does Imunify360 include KernelCare?
Yes, KernelCare is included in Imunify360. It provides kernel patching to boost kernel security without the need to reboot your entire system.
Does Imunify360 provide API?
Yes, API is included in Imunify360. It provides increased control, resolves issues and sets up the security suite.
Is Linux web server protected by Imunify360?
Yes, Imunify360 is built to enhance the security of Linux-based servers.
Does Imunify360 include ImunifyAV?
Yes, ImunifyAV is included in Imunify360 to keep all kinds of viruses at bay.
Our Accreditations


Committed to your data security