FortiGate Firewall


Cutting edge technology guarantees all round
protection

Detect, defend and fortify your system from all threats big and small.

View Plans Ask an Expert
Fortigate
vDom Firewall
£104.99 /mo ex VAT
Order Now
1 Gbps Threat Protection

-

2.6 Gbps IPS throughput

-

FortiOS Advanced OS

-

AI / ML-powered

-

Deep Visibility

-

Powered by Security Processing Unit (SPU)

-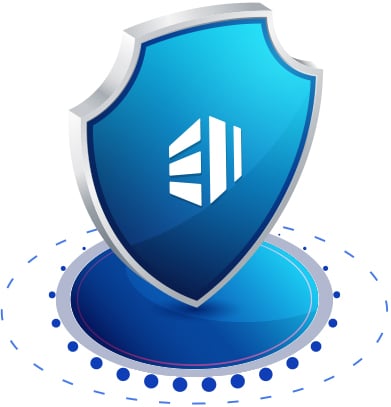 About FortiGate Firewall
Do you aim to secure your system from all threats lurking on the internet?
Our FortiGate Firewall helps you achieve your goal with the perfect combination of machine learning and AI integrated security. It affords network transparency to help pre-emptively detect threats and deal with them before they can cause any harm. Designed to be automated, extensive and in-depth, FortiGate Firewall enforces absolute advance protection including device and web content safety. It simplifies and maximizes the security of hybrid IT networks using reliable SD-WAN and segmentation of the network. FortiGate strictly restricts user access to verified users, thus minimising threats and guaranteeing advanced protection for your system.
Protect, Detect, and Respond
Offers absolute endpoint protection from malicious threats to ensure proactive detection and guaranteed extensive security.
AI combined with advanced machine learning helps secure user services. Complete automation offers high level protection from threats known and unknown.
Endpoint security along with an integrated network means extensive transparency and control. Helps enforce consistent policies such as content filtering.
Security analysts receive in-depth threat analysis and visibility through the use of advanced EDR tools to identify threats pre-emptively and deal with them using automated playbooks.
FortiGate Firewall Features


how do they protect your website?
Web Security
The trifecta of Domain Name System, cloud-based URL, and Video filtering result in advanced security against phishing and other malicious attacks. Cloud Access Security Broker, a proactive inline service, helps protect business SaaS data, while your application's access control is handled by inline ZTNA traffic inspection and ZTNA posture check.
Device Protection
Next generation technology is designed to monitor and secure Operational Technology, IT, and IIoT devices from any attacks & vulnerabilities. It's close to real time IPS intelligence identifies & stops a wide range of threats to offer complete transparency & ICS/OT/SCADA protocol control. It also provides pattern identification-based policies, segmentation, and automated discovery.
Content Protection
Detects and avoids all types of threats and attacks on your files with advance technologies focused on content security. Lateral movement protection, AV, Compact Pattern Recognition Language, and inline Sandbox ensure maximum and absolute protection from malware, ransomware and other types of attacks.
Email Filter
Your system can be easily attacked through spam. Once users open spam emails or their attachments, their machines get automatically infected. Fortigate email filter helps identify any email that contains harmful spam and tags it accordingly, to help users stay secure from such threats.
Powered by Purpose-Built Secure SD-WAN ASIC SOC4
FortiGate's SPU (Security Processing Unit) content and network processors along with RISC-based CPU guarantee incredible performance.
Provides quick application identification and steering to help smooth business operations.
Quickens IPsec VPN performance to ensure brilliant user experience on direct internet access.
Powerful performance with top level NGFW Security and extensive SSL inspection.
Ensure SD-Branch transformation that enforces advanced protection to access later along with quickened and integrated switch and access point connectivity.
Protect any edge, big & small
Advanced Security Processing Unit (SPU)
Firewalls of old fail to defend against the ever evolving threats as they depend on hardware and CPUs that are off the shelf. FortiGate identifies evolving threats and gets rid of malicious content using its SPU processors that offer up to 520Gbps power. It guarantees advanced network security along with fast and powerful performance.
What is Firewall throughput?
Generally measured in Mbps (megabits per second) or Gbps (gigabits per second), firewall throughput is the amount of traffic allowed to go through a firewall at any given point in time.
What sets a firewall and WAF apart?
A WAF focuses on Hypertext Transfer Protocol traffic to secure web applications. It is unique from a normal firewall that acts as a wall between internal and external network traffic. A WAF lies between web apps and external users to help monitor and analyse HTTP communication.


What is a FortiGate Firewall?
FortiGate provides cutting edge Firewall technology from IT Cyber Security leaders Fortinet, designed to secure businesses of all types and sizes from any malicious threat. It uses multi layer security processors and threat intelligence to guarantee robust performance, complete protection and network simplification.
How Does FortiGate Firewall Work?
FortiGate firewall inspects and monitors the data that comes into your network and ensures that it is safe to move on to your business.
Why Choose FortiGate Firewall?
Malicious threats are always evolving and looking at New ways to inflict damage on your business. Since a single beach could cause irreparable damage, you need FortiGate firewall to protect you from the latest threats and ensure smooth functioning of your entire operation.
What Does FortiGate Firewall Protect Against?
There are numerous threats that FortiGate firewall can protect your business from, including spyware, malware, pharming attacks, phishing, Email intrusions, viruses, blender network attacks and peer to peer networks.
Our Accreditations


Committed to your data security