Provided by Simply Transit, we run a fully redundant BGP network consisting of two separate hardware vendors which provides redundancy not only in the network level, but also on the hardware level.
We operate two separate 10Gigabit networks, from both Extreme Networks and Foundry Networks at all locations. On top of this layer 2 network we operate two independent IP Transit networks (AS29550 and AS34920) which run from multiple Cisco Systems 7606-S RSP720 and 6509 SUP720 routers at multiple London facilities, offering true redundancy to each customer.
Connecting with multiple Tier 1 providers, as well the London Internet Exchange (LINX), we are the only provider able to offer IP services diverse of London, to any of our customers.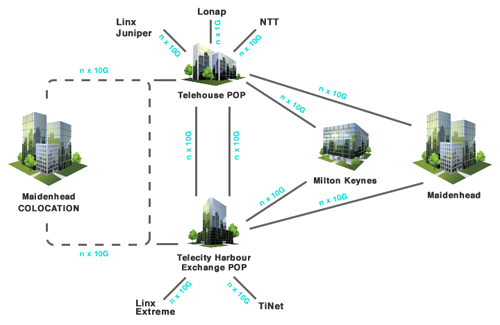 100% Cisco routers and switches
40Gb redundant fibre network
Monitored 24/7/365
VSS router configuration for hardware redundancy
Multiple transit providers
LINX 224 and 226 connections