Domain ID Protection
PROTECTION AGAINST IDENTITY THIEVES AND SPAMMERS
Mask your personal or company details from hackers, spammers and identity thieves with our domain privacy protection service.
live chat
talk to us
Domain ID Protection
Under ICANN rules, registered domain names must have publicly-accessible "WHOIS" contact information which includes the registrant's full name, postal address, telephone number and e-mail address.
Owning a domain name shouldn't mean you need to sacrifice privacy: WHOIS Privacy Protection helps to solve this problem. Fully compliant with ICANN rules, it replaces your contact information with ours. If we receive any correspondence intended for you, we'll forward it to you free of charge.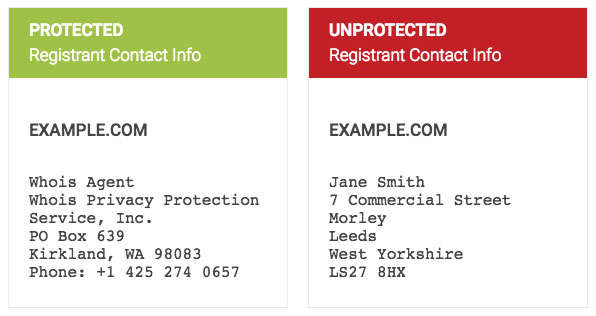 Protects your privacy
Keep spammers & hackers at bay
Domain privacy protection keeps your private contact information hidden from the public record. Your privacy will be assured as the domain contact details placed in the WHOIS record will be in no way traceable to you.
Helps prevent spam
Protects your mailbox from unwanted email
With Domain ID Protection, domain owners remain contactable through email. However, to protect you, we apply a special cloaking email address that forwards any emails sent to your inbox. This ensures that your personal address does not become a target for spam.
Compatible with popular domains
Now supports more domains than ever!
Our Domain ID Protection service works with many of the most popular domain extensions from around the world. However, some exclusions do apply, details of which can be found here.
Complies With ICANN
Always in control
Even though it won't be your own details directly attributed to the domain, you will always be the legal owner and remain in control. At all times you will be able to modify the settings of your domain, including ID Protection from your control panel.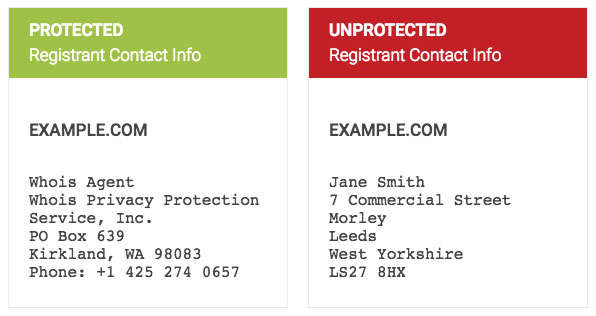 Can people still contact me?
When you register a domain name, your contact information will be known to the Domain ID Protection service provider and any communications they receive will be forwarded to you. If it is an e-mail, it will be forwarded to the e-mail address which they have on record from you. If it is a fax or letter, they will forward the letter to your place of residence.
Ready For Amazing Hosting?

Contact our team now

Our product experts are available to help you find the perfect solution for your organisation. We are available via live chat 24x7 or by phone from 9 am to 5 pm (GMT), Monday to Friday.
Our Accreditations


Committed to your data security